Way2Agribusiness India Pvt. Ltd. (Way2ABI)
ವೇ2ಅಗ್ರಿಬಿಸ್ನೆಸ್ ಇಂಡಿಯಾ ಪ್ರೈವೇಟ್ ಲಿಮಿಟೆಡ್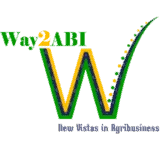 Way2Agribusiness India Pvt. Ltd. is a social enterprise, established in March 2014, with a core mission to facilitate the transformation of agriculture into agribusiness. Our primary objective is to serve as a comprehensive one-stop solution provider for farmers and agribusiness enterprises, dedicated to enhancing their competitiveness by offering enabling products and services. In pursuit of this mission, we have introduced, a) product-based initiatives: Way2Agritech and Way2Foods, our registered brands, cater to the supply of agricultural inputs & outputs, respectively, & b) service initiatives: Way2Agriintel AI, Way2AgriPro, and Way2Agribiz PMC.
Our Vision & Mission
One-stop solution for farmers & agribusiness enterprises, offering comprehensive services.
Enhancing the business competitiveness of participants in agri & allied sectors mainly farmers & agri-entrepreneurs through our enabling products & services.
Provide research based consultancy services & contemporary solutions to the clients in agribusiness sector
Seamless agribusiness project implementation and management.
Undertake trading operations of selected agri outputs & inputs incl. implements & machineries.
Five integrated solutions to 5 stakeholders
Brands "Way2Agritech" & "Way2Foods"
Solid online presence – Over 14 services
Strong network & presence at APMC Yard
Impactful & scalable products & services
Our Online Services
Service Brief

Digital agribusiness nexus ಡಿಜಿಟಲ್ ಕೃಷಿಉದ್ದಿಮೆ ಕೊಂಡಿ
Agritech advancements & Intel ಅಗ್ರಿಟೆಕ್ ಪ್ರಗತಿಗಳು & ಇಂಟೆಲ್
Seamless farming solutions ತಡೆರಹಿತ ಕೃಷಿ ಪರಿಹಾರಗಳು
From farm to plate precision ತೋಟದಿಂದ ತಟ್ಟೆ ನಿಖರತೆಗೆ
Empowering sustainable agri ಸುಸ್ಥಿರ ಕೃಷಿ ಸಶಕ್ತಗೊಳಿಸುವುದು
Online - Maximize reach & minimize costs ರೀಚ್ ಹೆಚ್ಚಳ, ಕಡಿಮೆ ವೆಚ್ಚ

Corporate and social presence – www.way2agribusiness.com
Brand hub – www.way2agritech.com & www.way2foods.in
E-Commerce – www.way2smartfarmer.com & www.powertiller.in
Products specific websites – www.drsoilhealth.com